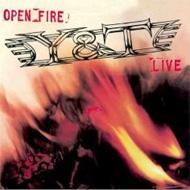 No quería dejar de hablar sobre este disco. Tenía 16 años y como era mi costumbre fui a "In Rock" (En Galería Paseo Lavalle, luego pasó a ser "Excalibur") con mi cassette TDK a que me grabaran algo interesante. Ese día no quería llevar ni algo muy "blando" ni "pesado", el disquero sugirió de inmediato Y&T como punto de equilibrio, le dejé el cassette y hace pocos años un sello inglés tuvo la deferencia de editarlo, y me lo pude comprar en CD. Cuando se hablaba de hard rock norteamericano, la referencia inmediata recaía en Kiss, Led Zeppelin, Alice Cooper o Aerosmith, teniendo en cuenta el enorme suceso de estas bandas en la decada del 70. Años después nace Van Halen y surgen otras bandas que no llegan al éxito masivo (Dokken, Angel, la primera versión de Quiet Riot y la primera versión de Twisted Sister por mencionar solo algunas). En este lote se incluye al cuarteto Y&T, o Yesterday And Today.
Sus inicios datan de 1974 cuando lanzaron su álbum debut. Luego de sacar un lote de discos interesantes de estudio entre los setentas y mitad de ochentas ("Earthshaker", "Black Tiger" por mencionar sólo dos), y habiendo teloneado a AC/DC en su gira norteamericana de "For those about to rock...", participando en el festival de Reading en Inglaterra y recorrer incansablemente el circuito norteamericano de clubes de rock (Motley Crue cuando recién comenzaba fue telonero de estos tipos), deciden grabar su primer disco en vivo.

"Open Fire Live" es uno de los discos en vivo más genuinos e intensos que escuché en mi vida. Uno puede escuchar el clamor del público mientras suenan los temas a todo volumen y polenta, y la banda definitivamente suena mucho más arrolladora en el escenario que en el estudio. Las tomas fueron seleccionadas de shows grabados en Londres y San Francisco, por ende entre tema y tema hay "silencios" y no continuidad (Prefiero eso y no cuando empalman en un "en vivo" tres shows distintos fingiendo uno con retoques e inserts).

Y&T tiene un gran guitarrista lider, cantante, frontman (¡Y hasta manager de la banda!): Dave Meniketti. Con un voz muy rockera, muchos acusan a Sammy Hagar de haberlo copiado, sus registros son identicos. Otro músico que sobresale es el baterista Leonard Haze (Quien vino acá en el primer show solista de Ian Gillan e integró su banda solista). La formación se completa con el guitarrista Joey Alves y el bajista Phillip Kennemore.
¿Qué hace de "Open Fire Live" un disco excelente?. La selección de temas, y la impresión de realmente estar "viendo" a la banda. Son 8 temas en vivo y se incluye un excelente tema en estudio (medio comercialón pero muy efecto, "Summertime Girls"), del rock más contundente como "Open Fire", "Forever", "Rescue Me" hasta coqueteos con el boogie en "Baroom Boogie". La banda luego se lanzo de headliner (Con Twisted Sister de soporte en pleno éxito con su disco "Stay Hungry"), y se grabó un gran show en VHS, "Live at San Francisco Civic".

De todos modos, pese a estar en una multinacional como A&M, nunca llegaron a la popularidad, sacaron más discos de estudio y se separaron, para volver en el 2000 aproximadamente. Si andás buscando hard rock con muchos huevos, buen gusto y melodía, imposible que te defraude Y&T.

Calificación: 9/10