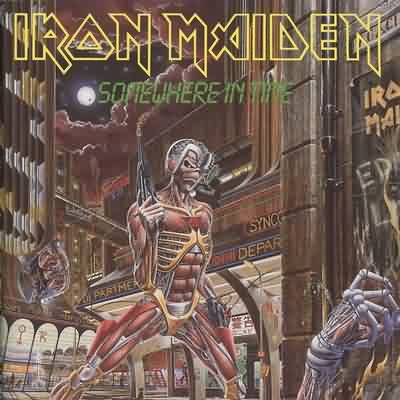 Recuerdo cuando fuí a comprar este lanzamiento en formato de cassete nacional al "Centro Cultural Del Disco" allá por diciembre de 1988. De decente edición para los bodrios que sacaba la industria nacional (sin las letras de los temas como de costumbre para quienes adquiríamos cassette), al menos uno podía escuchar los lanzamientos de La Doncella De Hierro decentemente gracias a que siempre vendieron muy bien en Argentina y EMI editó todo de ellos.
"Somewhere In Time" es mi disco preferido de la banda (Luego viene "Piece Of Mind"), hay varios factores para destacar: lograron redondear una grabación excelente, sin fisuras, los ocho temas son excelentes y la banda llega en su punto creativo más alto sin mutar su inigualable línea musical.

Para este disco deciden incluir guitarras eléctricas sintetizadas y sofisticar la producción sin sacrificar pesadez (Merito de Martin Birch, productor histórico de la banda).
La placa se abre con "Caught Somewhere In Time" creando un vendaval tremendamente épico. Tras una breve Intro (Con memorables ejecuciones de las violas) se desata el frenesí musical durante casi todo el tema sin tregua ni respiro, con un Dickinson cantando furiosamente, Dave Murray y Adrian Smith en momentos de trance con las guitarras (bien gemelas por momentos), y Harris/Mc Brain conformando la base rítmica que tanto caracteriza a esta banda.

Al terminar el tema uno queda absolutamente Knock-out.
"Wasted Years" tiene un riff muy interesante acompañado del formidable bajo de Steve Harris (¿Hace falta que escriba más de él?) y baja un tanto la intensidad sin sacrificar contundencia. Posee un gran coro y se convirtió en el primer single del álbum.
"Sea Of Madness" es más oscuro y retorcido que sus antecesores, por momentos las guitarras tiene leves guiños al thrash, pero a la par posee lindos pasajes melódicos amalgamados con las cabalgatas de Nicko McBrain en la batería.

En el bridge nuevamente hay grandes coros acompañados en este caso por una viola sintetizada, de la furia inicial a mitad de tema hay un interludio con una línea de bajo sumamente interesante.
Acaso el punto más alto del disco sea "Heaven Can Wait", luego de su introducción elaborada en donde se entrecruza el bajo con punteos de viola, se desata toda la furia épica con un riff 100% maideniano.

Un chorus inolvidable en donde Bruce parece tocar el cielo junto a Murray y Smith. Duelos, más batallas entre los violeros, solos inolvidables, el bajo abriendose paso sin quedarse atrás (¿Alguna vez lo estuvo en Maiden?), en un momento el tema experimenta un cambio de interpretación cuando Bruce empieza a entonar "Take my hand.... I'll take you to the promised land..." hasta subir su registro al máximo haciendo que al oyente se le ponga la piel de gallina, pegando el tiro de gracia con un coro inolvidable y un nuevo dueto de violas y la furia hecha música maravillosa.
El resto de los temas sigue con estos preceptos: violas inolvidables con duelos, gemelas a lo Thin Lizzy, solos sublimes, sonido más "depurado", coros majestuosos, baterías épicas, Dickinson a tope (realmente excelente y de lo mejor del disco), bajo aplastante de Harris (Para variar), temas de más de seis minutos de duración.
"The Loneliness Of A Long Distance Runner" es uno de los más apasionantes, furibundo, intenso y con toda la adrenalina. Las violas crean duelos memorables y descargas de alto voltaje. La performance de Dickinson raya con la furia.
"Stranger In A Strange Land" tiene un clima muy logrado y fue el segundo single del álbum, el tema es el más "moderno" de toda la placa (Sin ser comercial).

"Deja Vu" zafa, es el tema más "flojo" sin ser para nada material de descarte.
El disco se cierra con el impresionante "Alexander The Great". Luego de una introducción sumamente lograda (Con Nicko haciendo redoblantes como si se estuviera por desatar una batalla) en donde Bruce deja la garganta y el alma con una interpretación fulminante rememorando al mencionado Magno y a Macedonia.
Un gran disco de la Doncella.
Calificación: 10/10