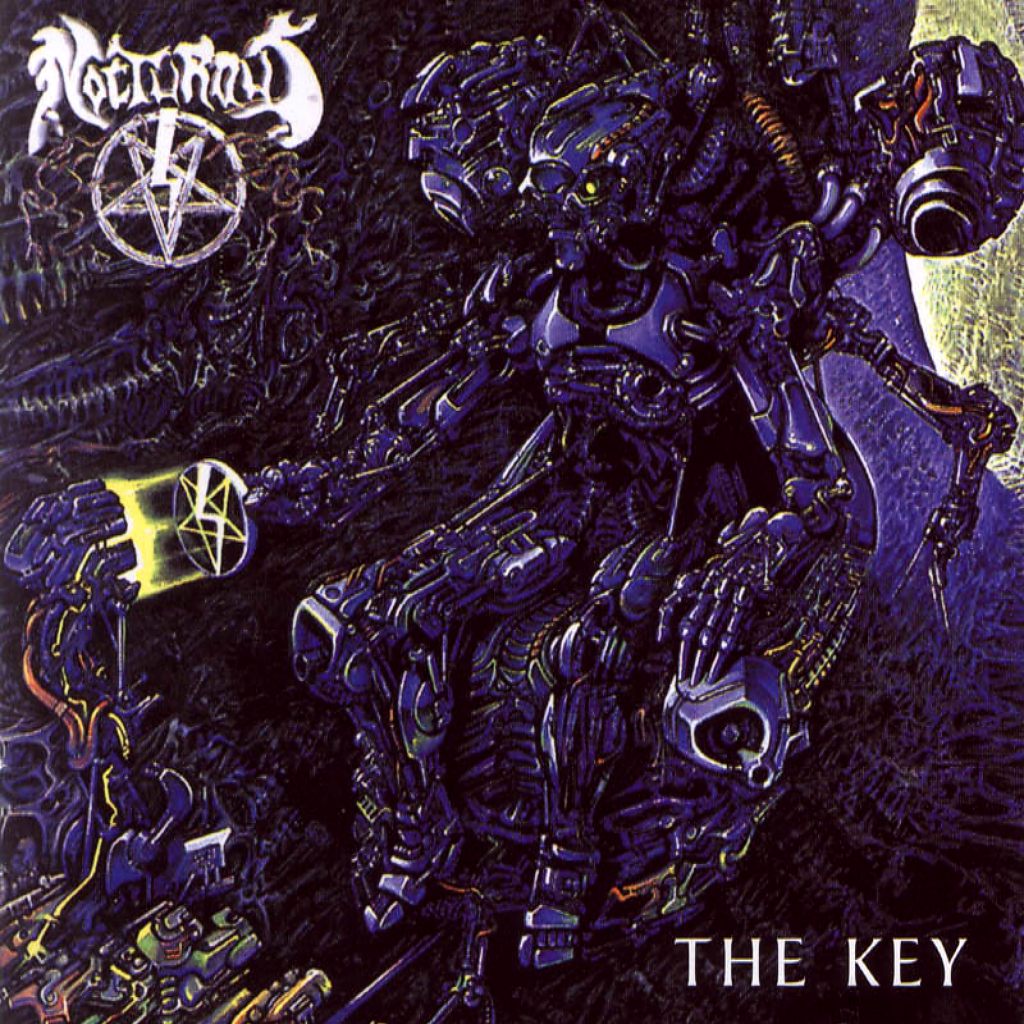 Recuerdo cuando iba a la Disqería Excalibur allá por 1990. Timidamente se colaban los CDs originales y cassettes grabados de Death, Morbid Angel, Morgoth, Obituary, Malevolent Creation, Atheist y demás exponentes de Death Metal de todo el mundo que estaban explotando paulatinamente. Un día entro al local y el dueño me dice "Martín, tenés que escuchar Nocturnus, hacen death metal... con teclados!". Así fue que durante años gasté ese cassette de TDK grabado de un CD (No había CD-Rs ni y un CD original de aquellos años era casi un Van Gogh, la mayoría de la gente optaba por las copias a causa de los precios altísimos de los compacts en los primeros noventas).

Años después, me fue dificil localizarlo en CD debido a que era un item jodido y descatalogado. Un día (de culo) revolviendo bateas en la Bond Street allá por 1995 apareció y me lancé sobre el tesoro. Es lindo para mí recordar esto, porque algunos de ustedes recordarán el ESFUERZO que significaba encontrar un CD específico o jodido durante aquellos años. Seguramente como yo, se recorrieron disquerías enteras, revolvieron bateas hasta en disquerías no especializadas, y encontraron ese disco que tanto buscaban. "The Key" fue lanzado por Earache Records, un sello inglés independiente fundamental para la música extrema, recuerdo una nota en Metal Maniacs en donde se dedicaban tres páginas al sello para promocionar y describir sus lanzamientos más recientes del momento: Bolt Thrower, Napalm Death, Carcass, Entombed y Morbid Angel. Yendo a lo importante y dejando la nostalgia de lado, "The Key" fue un sacudón en su momento.
¿Death Metal con teclados?. Sí. Un excelente disco con un concepto lírico que abarcaba desde temas cósmicos hasta leves tintes de satanismo. Musicalmente hacen algo muy propio, pero en el ADN de esta banda se advierten genes de próceres como Morbid Angel y Watchtower. "Lake Of Fire" abre el asunto con una de las más hermosas intro de teclados que haya escuchado en mi vida, la cual desemboca en un solo hiperesquizoide que deriva en un riff con unos teclados muy "espaciales". El tema rebalsa calidad, tecnicismo y un muy buen gusto en los arreglos, los punteos de las violas por momentos son clásicos. Los teclados no hacen más que resaltar la calidad de las interpretaciones. "Standing In Blood" es más deathmetalero, recordándome al Morbid Angel de "Altars Of Madness"), hay más machaque y velocidad pero los músicos siguen deslumbrando con los arreglos (Claves en todo el disco), nuevamente los teclados que van desde los clásicos "colchones" (Sobretodo para crear efectos de sonido "cybers") a ser el instrumento principal que le inyecta melodía a las composiciones.

Las violas tiran riffs brutales, pero también escalas muy logradas, tienen variedad dentro del estilo (Caso de "Visions From Beyond The Grave"). En "Neolithic" llegan a un nivel de calidad muy alto, amalgamando riffs furiosos (hasta épicos) con sólos y secciones muy inspiradas que incluyen variaciones rítmicas e irrupciones del doble bombo del batero Mike Browning (Ex Morbid Angel, quien se encarga de las voces además), siendo mi favorita la que va de 02:10 a 03:11, momento colosal de todo el disco (y me animo a arriesgar que en todo el death técnico) en donde TODOS los instrumentos destilan genialidad. Los demás temas son de muy buenos para arriba y mantienen las características generales ya expuestas: teclados agresivos e inspirados, secciones rítmicas con variantes, guitarras texturadas más sólos soberbios. "Undead Journey" y "BC-AD" son la continuidad lógica de esta sobredosis de ideas (Que es lo que hace de Nocturnus una banda diferente).

Me vuelvo a caer de culo con "Andromeda Strain", otro favorito mío. De 00:14 a 00:38 hay unos teclados que me erizan la piel con las violas punteando a la par logrando otro momento glorioso. El resto del tema es otro compendio de ejecuciones excelentemente plasmadas con los teclados yendo "paralelo" a las dos violas, mejorando lo inmejorable... La intro de teclado en "Droid Sector" es algo limadora pero de alto nivel, ideal para escuchar arriba de una nave espacial o mientras ves un film de ese tipo. El tema es más "riffero" y denso que sus antecesores volviendo a percibirse algo del primer Morbid Angel (Que ya usaba teclados en "Altars Of Madness" pero no tan acentuadamente como Nocturnus en este disco).

Cierran este tremendo álbum dos TEMAZOS: "Destroying The Manger" (Con otra cyber-intro muy lograda) y altas dosis de ferocidad mezclada con secciones rápidas más destrezas instrumentales de todo calibre, a medida que los minutos transcurren la calidad no decae... aumenta!. Los cinco músicos no se cansan de sumar un acierto tras otro, hasta las voces de Browning están bien para la propuesta, y el ENORME "Empire Of The Sands": una intro inolvidable desemboca en más magia de los violeros, y un muy volcánico riff precedido por arreglos descomunales de teclado y punteos letales que vienen de los cuatro costados (De 01:57 a 02:16 recuerdan a un Watchtower menos trabado), el bridge del tema es el caos puro con los teclados que se te clavan en el tímpano y Browning rugiendo a pleno.

Hoy es moneda corriente hablar de teclados: lo que no es habitual es que una banda realmente se destaque por su equilibrio entre pesadez, versatilidad instrumental y arreglos interesantes.

Una banda irrepetible y uno de mis compacts más queridos de la colección que tengo.

Calificación: 9/10