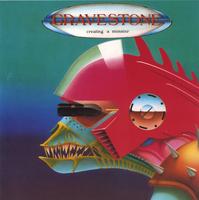 Corría mi adolescencia y me encontraba en la disquería "In Rock" (Galería Corrientes Angosta) encargando el "Denim And Leather" de Saxon (sisi, para que me lo graben en cassette, debo una review de ese CD). De repente el disquero cazó un vinilo y un riff de guitarra me estampó contra la pared. Luego seguía esa viola pero con un bajo y batería aplastante, después un cantante agudo y bien metalero. Lo puso a todo volumen, les cuento que los vinilos puestos a todo vapor era otro tipo de potencia en relación al CD (Ni mejor ni peor, distinta, el sonido era más orgánico y no tan digital). Todos nos caimos de culo, los 5 que estabamos le preguntamos al disquero "Quienes corno son estos HIJOS DE MIL PUTA?" clamabamos (Les recuerdo.... 1987!!!). La respuesta fue... GRAVESTONE. El riff de entrada de "Masters of the earth" es uno de los más memorables de la historia del metal, electrizante, metalísimo, facturado por Mathias Dieth (Luego se fue a U.D.O. y a Sinner), le precede una batería a puro snare (Cortesía de Dieter Behle), y se desata uno de los temas de heavy metal que más me emocionó en la puta vida con la garganta de Berti Majdan que te pone la piel de gallina. El resto del disco no llega a semejante proeza, pero es excelente. Empezando por sus músicos, como buenos alemanes, muy competentes.

Es obvio que Judas Priest, Accept y Running Wild influyeron en estos tipos, el machacoso/sumamente ochentosos "Right To Rock" y "You Can't Take It With You" (En este último hay teclados en el coro pero están bien puestos). La cosa se pone lenta, amagan bajar la intensidad, pero no, fue por un minuto: "Creating A Monster" de martilla el coco al estilo Accept de "Restless And Wild", y el doble bombo PURO final te taladra el timpano. "The End Of Our Love" suena medio comercialón ya del titulo, pero es un hard rock muy potente, con un coro memorable. El cantante de nuevo copa la parada. "Danger" y "Dirty City" son correctos temas, se dejan escuchar, anteceden al glorioso, épico y sublime riff que arranca en el tema "Illusions".

Afortunadamente, años después lo trajo Excalibur en CD, una edición europea limitada que incluía también su album debut "Victim Of Chains" (Mucho más debil que este). Se imaginan que apenas la vi en la batea me tiré de cabeza hacia ella. ¿Buscan Metal?. ¿Más metal?. ¿Decibeles?. ¿Riffs que te estampen?. Prueben con este disco, no se van a arrepentir y hasta me lo van a agradecer!

Calificación: 9.5/10