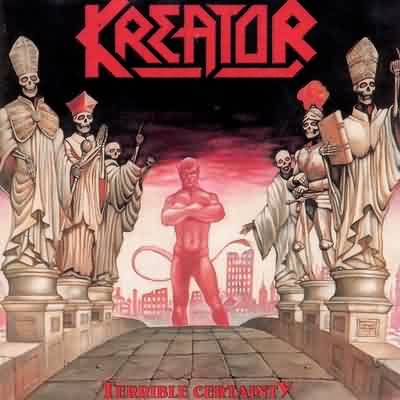 La primera vez que escuché este álbum fue en cassette grabado, como siempre gracias a la disquería "Excalibur" que tanto material me proveyó. Años después lo compré en CD. Ya venía de tener la copia de "Extreme Aggression", y "Coma Of Souls" y decidí ir para abajo en la discografía.. Recuerdo que la banda estaba próxima a tocar por acá (1992-3) y me copié todos los demás discos viejos hasta completar la discografía. En este disco Kreator traza una suerte de puente entre su primer estilo sucio y quilombero (El de "Endless Pain" y "Pleasure To Kill") y lo lanzado con "Extreme Aggression" en donde empezaron a meter arreglos y elaboración en su música sin sacrificar la ferocidad que caracteriza a estos Alemanes.

Igual prevalece el sonido sucio, solos bien disonantes y chillones, berreos de Mille Petrozza. Mucha velocidad y machaque, el clima es áspero e irritante. Lo que más me gusta de este "Terrible Certainty": violencia sin parar pero con más cauce en relación a los primeros discos (Cuando todo era primitivismo y velocidad pura). Hay un tema que se destaca mucho por sobre todos los demás: "Toxic Trace" (Del cual se filmó un video), el cual sería el antecedente del estilo que luego desarrollarían en el siguiente álbum.

El resto de los tracks es parejo y rompe mandíbulas como el tema título, "No Escape", "Storming With Menace" o el filo de "Behind The Mirror" y "One Of Us". Los solos de viola repito, son muy chillones y mal tocados a propósito, algo que nunca me gustó en los primeros discos de Kreator y acá se ve empeorado.

La producción pudo haber sido mejor pero no empaña al disco sino que lo dota de mayor "suciedad" (La banda años después putearía por la misma). Con este disco seguirían ganando popularidad, y en aquellas épocas Kreator era considerada una de las bandas más importantes del género, y tenían mucha difusión en revistas de thrash de la época. "Terrible Certainty" no es de lo mejor de Kreator pero sí un disco interesante por las características ya expuestas. La luz la encontrarían en el siguiente álbum.

Calificación: 7.5/10